Compared to other majors, STEM students are most likely to believe companies will recruit them directly out of college, and 73 percent feel they will receive a good job upon graduation.
McGraw-Hill's Education 2016 Workforce Readiness Survey released in June discovered "only 40 percent of college seniors feel their college experience has been very helpful in preparing for a career."
"Every college graduate deserves to enter the workforce with the confidence that their degree was worth the investment," said Peter Cohen, group president of U.S. education for McGraw-Hill Education.
Using technology in the classroom was reported as improving students' preparedness for entering the workforce.
Eighty-five percent of students surveyed in 2016 felt using technology in classes and as a study tool will make them a stronger job candidate, an increase from 80 percent of students in 2015. Business and Economics students (65 percent) and science, technology, engineering, and math students (61 percent) use technology for studying more frequently than other majors.
And graduate students feel the most positive about technology. "Nearly all graduate students (96 percent) agree that frequent technology use will positively impact candidacy for employment," the report states.
Almost half (55 percent) of students stated using workplace-related technology as the third most me30ntioned skill learned at college, preceded by presentation skills (63 percent) and multitasking (66 percent).
However, despite positive feelings toward technology use, the amount of students using study technology has decreased to 29 percent in 2016. The survey showed a 10 percent decrease in use of study technology from 2015.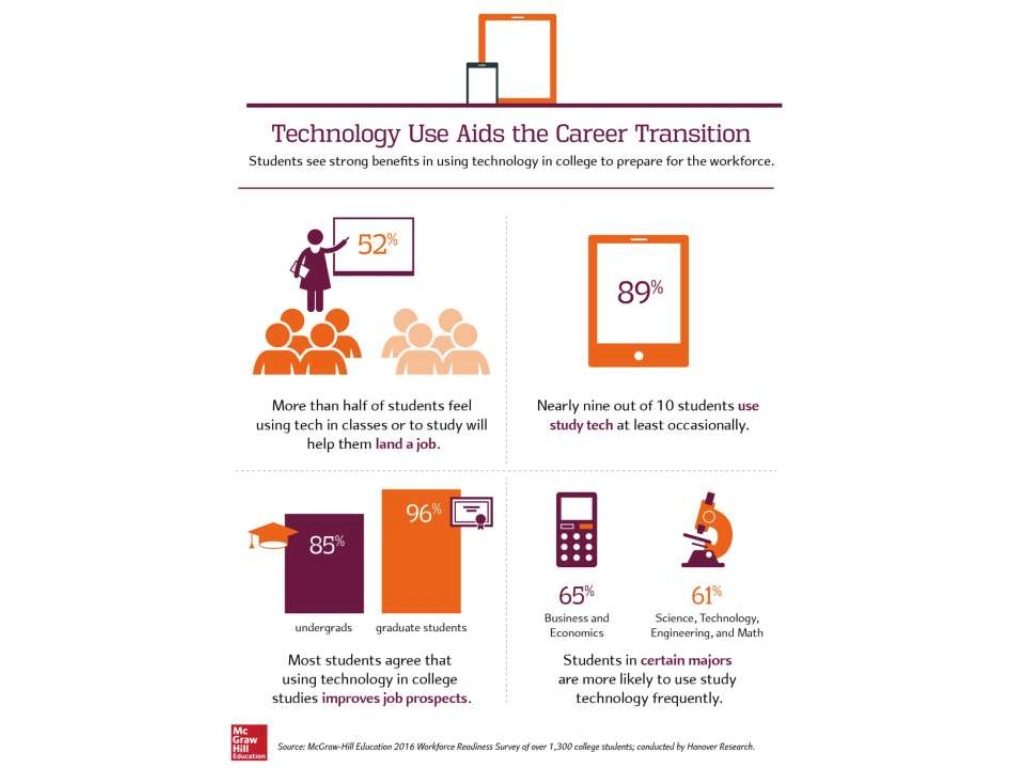 Read More About