Like other states across the country, Maryland needs to reduce the number of COVID-19 infections to flatten the curve. Contact tracing—the process of reaching out to people who tested positive for the virus and alerting people who have been in contact with them—is an essential part of the state's strategy.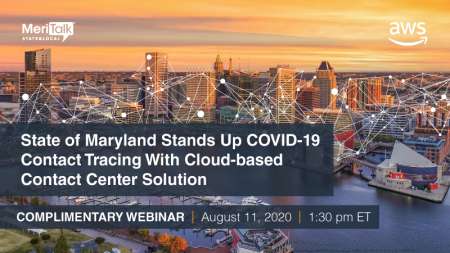 Within days of a request to build a statewide contact tracing system in late April, Lance Schine, deputy secretary of the Maryland Department of Information Technology (DoIT), and his team were demonstrating the new covidLINK system for Gov. Larry Hogan. In less than a month, it launched with a pilot in the city of Baltimore. By the end of May, all 24 jurisdictions were implementing the system.
The covidLINK system incorporates COVID-19 test results and associated information captured in the Chesapeake Regional Information System for our Patients (CRISP), Maryland's health information exchange. Maryland used the Amazon Connect open platform to access CRISP data stored inside Salesforce, allowing contact tracers to self-serve and display details about who they needed to call. They chose Amazon Connect as the virtual call center technology because of its features, scalability, and integration with Salesforce. To enable text messaging follow up, the state selected Polka Dot Sky Software for its software as a service alerts, enabled by Amazon Web Services (AWS) which includes Amazon Elastic Compute Cloud (Amazon EC2) and Amazon Relational Database Service, as well as AWS Key Management Service (AWS KMS) for data encryption.
Using Amazon Connect, contact tracers reach out to people diagnosed with COVID-19 by phone within 24 hours to begin a trace investigation. They see a record on their computer screen and call out to the person by clicking on their phone number. To increase the number of people who answer the call, every call uses the state's dedicated COVID phone number and caller ID: MD COVID. Based on the individual's contact history, contact tracers reach out to people with whom the individual had contact and provide guidance about monitoring symptoms and isolating at home.
After the initial call, each individual receives a daily, automated text message asking how they are feeling. The system logs their responses in Salesforce. If a person describes symptoms that meet a defined threshold, the system will escalate the person's case and schedule him or her for testing.
The system was built to enable contact tracers to reach up to 11,000 new contacts each day. The automated text messaging system can text at a rate of 100 messages per second. In a week, hundreds of thousands of citizens receive texts.
"It's like contact tracing on steroids," Schine said. "We're able to handle a very high volume of communication with a reasonable amount of contact tracers because the system has these automated features. Without this very flexible, powerful cloud technology, I don't know how this would have scaled, frankly."
Hear Lance Schine deputy secretary of the Maryland Department of Information Technology discuss this during a complimentary webinar on August 11 at 1:30 p.m. EST.
Read More About