Things are always bigger in Texas, the saying goes, and that certainly is the case when it comes to innovative, sometimes revolutionary next-generation IT.
Texas was at it again on Sept. 1 when it launched an IT marketplace website for state agencies to get the best deals for cloud services, the Lone Star State's CIO tells MeriTalk.com.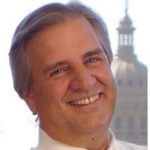 "Texas is leading the country on cloud. We have more cloud contracts in place than any other state," CIO Todd Kimbriel said in an interview.
Texas is believed to be the first state to stand up a cloud services marketplace, said Elliott Sprehe, spokesman for the Department of Information Resources (DIR).
So far, 30 state agencies (out of 180 that are eligible to participate) have signed on to participate. More are expected to join the marketplace in the coming months.
The marketplace is a website portal that customers in the Data Center Services program use to order services.
Using the marketplace, Kimbriel said, agencies get faster automatic service without dealing with a sales representative or getting bogged down in paperwork. What used to take weeks, now takes just a few days.
"It takes advantage of self service," he said. "It's faster service and gives the customers the ability to price comparison."
"My biggest goal is to meet the technology needs of our customers so they can deliver services to citizens as efficiently and quickly as possible," Kimbriel added.
The way it works: 30 agencies are currently participating in the Data Center Services program that gives them access to the public cloud.
The DIR reviews company offerings and makes them available in the cloud.
Two companies have been approved to offer their cloud storage solutions–Amazon Web Services and Microsoft Azure. Five agencies are currently using the public cloud, according to Sprehe.
Agencies also are able to use cloud brokers, companies hired by an agency to find the best deals.
"Just as public cloud computing has brought the power of the Internet to large businesses, it has also created the need for a new type of middleman, what Gartner has called a cloud services brokerage," wrote Glenn Weinstein, CTO for Appirio, a consulting firm focused on cloud computing.
"The future belongs to the new cloud middleman," he wrote in a column for Forbes.
Security is always at the forefront for Texas DIR.
Agencies are prohibited from putting proprietary information on the public cloud, including Social Security numbers and other personal information.
They can store the information at the state's data center and use their cloud services in a protected environment. All information has to be encrypted, said Claudia Escobar, deputy chief information security officer.
Texas has a long history as a leader in technological innovation. It continues today at a rapid pace.
In August, DIR's Data Center Services program announced it had successfully met its 75 percent target for consolidating computing services within the state's consolidated data centers.
This fall, DIR is expected to launch a pilot for body and dashboard cameras requested by law enforcement and to offer a contract for the services in early 2017. DIR hopes to have a contract out this winter.
In January 2017, agencies will start being charged by the meter (the actual time the system is in use), not the hour, for cloud services.
Also in January, Hybrid Cloud Services–another new service–will be provided to state agencies, said Sally Ward, DIR's Director, Data Center Services.
Ward described the service: Hybrid Cloud Services will provide customers with expanded cloud and self-management options, while meeting the business, security, and regulatory requirements of Texas state government.
The services include fully managed and self-managed options, as well as DCS private community cloud and public government cloud options.  It is a hybrid cloud offering because it provides the ability to use and connect all these different cloud environments
Some of the key features and benefits of this service are:
Integrated DCS private community cloud with public government cloud options in the consolidated data centers.
Semi-managed and fully managed service options.
Automated cloud self-provisioning.
Next-generation tools & infrastructure automation improving service delivery and infrastructure availability.
Agility, transparency, and control of customer IT infrastructure and financial spend.
Texas Administrative Code 202 security compliance.
Read More About