A recent study by a team of National Institutes of Health (NIH) researchers showed widespread support for the Precision Medicine Initiative (PMI) Cohort Program, with more than half indicating they would be willing to participate in the program themselves.
The PMI Cohort Program hopes to bring together 1 million or more U.S. patients who will share their health and wellness information to develop a foundation for precision medicine in clinical practice. The cohort hopes to bring together participants from diverse social, racial, ethnic, economic, and geographical backgrounds, all contributing data via questionnaires, EHRs, wearable devices, blood samples, etc.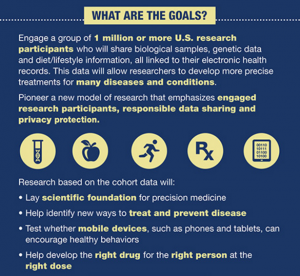 The study looked at 2,601 people selected randomly from a representative sample of the U.S. population and hoped to gauge public interest in the program and analyze data collection, data sharing, and involvement concerns.
After learning more about the PMI Cohort Program, 79 percent of the respondents said they supported the program, and 54 percent said they would definitely or properly participate in the program.
"We are excited about engaging participants in this historic research effort," said Kathy L. Hudson, NIH deputy director for science, outreach and policy, and a study author. "These survey results are extremely promising–they show that after people learn about the PMI Cohort Program, they're supportive, and they recognize the value in taking part."
Levels of support were constant across racial and ethnic groups. The authors wrote, "The survey findings do not support the idea that people from communities that have historically been understudied in research are not interested in participating in this cohort. In contrast, in each demographic group…at least 1 in 11 people (9 percent) said they would definitely participate if asked, would donate blood, and would take part for at least 10 years."
Some groups did show higher or lower interest in participation:
Higher willingness: Younger, college-educated, LGBT community.
Lower willingness: Older (60-plus), fewer years of education.
"These survey results suggest…it may take some more thought and effort to engage older people and those with fewer years of education. These results were helpful in identifying areas where the PMI Cohort Program may want to focus outreach efforts, beyond the communities that have been historically underrepresented in research," said Dave Kaufman, program director at the NIH National Human Genome Research Institute and a lead author.
Surprisingly, respondents expressed willingness to share personal data with the program, such as:
Blood samples (73 percent).
Genetic information (76 percent).
Family medical history (77 percent).
Soil and water samples from their home (83 percent).
Lifestyle, diet, and exercise information (84 percent).
However, only 43 percent said they would be willing to share their personal social media information with researchers.
In exchange for their personal information, 90 percent of respondents wanted to receive information about their health, in the form of lab results, genetic information, a copy of their medical records, or information on other health research studies. This component is critical to program participant retention.
"To sustain participants' commitment over the long term, researchers must continue working as part of the study communities," said Kaufman. "Participants offer terrific ideas and insights when researchers earn their trust."
Read More About