New York City Mayor Bill de Blasio announced on Monday the appointment of Sree Sreenivasan as the city's new Chief Digital Officer (CDO).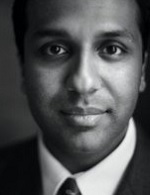 "To move our city's digital ecosystem into the 21st century, we need to ensure our city's resources are at the fingertips of every New Yorker. With Sree Sreenivasan's wealth of experience, I am confident that he will work to promote transparency, access, and progressive values with our digital tools, helping spread access across the five boroughs," said de Blasio.
The CDO directs the Office of Digital Strategy by launching civic engagement-focused digital products, increasing government transparency, and supporting tech in New York City.
"It's a real honor for me to serve as the CDO of the world's greatest city," said Sreenivasan. "There are so many opportunities to extend the Mayor's Digital Playbook, collaborate closely across various sectors, and help bring more startups here. I will draw on what I've learned working in four critical NYC industries: education, media, arts and culture, and nonprofits, and look forward to building on the great work of my predecessor Jessica Singleton and her predecessor, Rachel Haot."
Sreenivasan begins his work in the fall, according to the New York City press release, and replaces Singleton, who worked as the city's CDO since 2015.
Read More About