Consumer expectations and needs demand that health data be shared and made easily accessible, according to Karen DeSalvo, the national coordinator for Health Information Technology at the Department of Health and Human Services (HHS).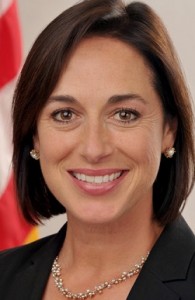 "Consumers are expecting that we share their data and HIPAA [Health Insurance Portability and Accountability Act] allows it," DeSalvo said at the Office of the National Coordinator for Health Information Technology (ONC) Annual Meeting on Tuesday. "For too long and still today, we think about data as something that we have to hold tightly on to, but it is built into our DNA of medicine."
She addressed the importance of discussing the needs of consumers when it comes to health data, and that consumers are by and large in support of electronic access to their data.
"This is what I hear loudly and clearly: Everywhere I go, in every community where I have a listening session or visit a clinic or health center or hospital or scientific environment or public health agency or any place we go, what the people of the country they are ready for is the electronic health information to be available when and where it matters to them," DeSalvo said.
"It is also something we are hearing increasingly from scientists," she continued, pointing to research endeavors such as the White House Cancer Moonshot as areas in need of greater data access.
In a later panel, DeSalvo interviewed former HHS secretary and Kansas governor Kathleen Sebelius about the importance of and the state reaction to health data regulation. A major subject was the need for the Federal government to act as a leader in opening access to health data.
"There was a push and pull for the eight years I was a governor about how far states would go," said Sebelius. "And the fear was if you invested too much money, if you went down a road that is not the same that the Federal platform became, then you would waste the money and have to start all over again. So things were frozen at the state level."
DeSalvo pointed to partnerships between the various levels of government and private companies as the ultimate solution to enabling access to health data.
"We asked for people to take a pledge privately about three commitments: consumers should have access to their electronic health care information where and when it matters to them, we should not engage in health information blocking that is unreasonable, and we would agree to move to Federally recognized national standards, including those around privacy and security," DeSalvo said. "The Office of National Coordinator believes that this is a process moving forward that will require the partnership with the private sector and all of our Federal partners."
Read More About